Fiber-optic communication lines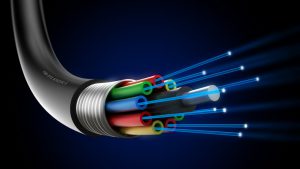 Fiber-optic communication lines are now considered to be the most ideal and promising solution for information transfer.
In contrast to the networks built on the basis of copper cable, the fiber has:
High throughput and low losses, which allows the transmission of signals over long distances without any additional effort;
High jam-resistance, immunity to electromagnetic interference, from both copper cable systems and electrical equipment, which ensures trouble-free operation even with a high electromagnetic field;
To achieve higher volumes of data transmission, there is no need to change the whole line, it is sufficient to change the terminal equipment, and, of course, it is a long service life.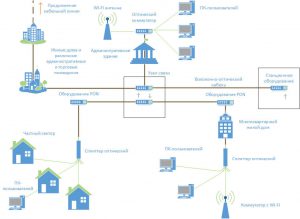 We have a wide experience of working with fiber-optic communication lines and offer our Clients a wide range of services for the development and creation of network solutions based on fiber-optic systems, which includes:
Preparatory works and projecting of fiber-optic communication lines (technological, main, distribution communication lines);
Laying and installation of fiber-optic communication lines (between buildings and structures, along sewer canals, inside buildings and structures);
Welding of optical fibers in optical couplings and boxes (FOB) with their subsequent installation;
Network testing and commissioning;
• Installation and connection of the final network equipment.
We use the latest Japanese equipment in the field of automated welding of optical fiber, which minimizes signal loss in welds. It should be remembered that a well-executed installation, with subsequent, correctly performed commissioning, will ensure a highly efficient and uninterrupted operation of the network, so it should be trusted to the specialists with extensive experience in FOCL.
Contact us! And we will offer you the best solution for your task of building a fiber optic communication system!